1053 Lake Washington Blvd N
Renton, WA 98056
Jeff Ouradnik
425.203.1234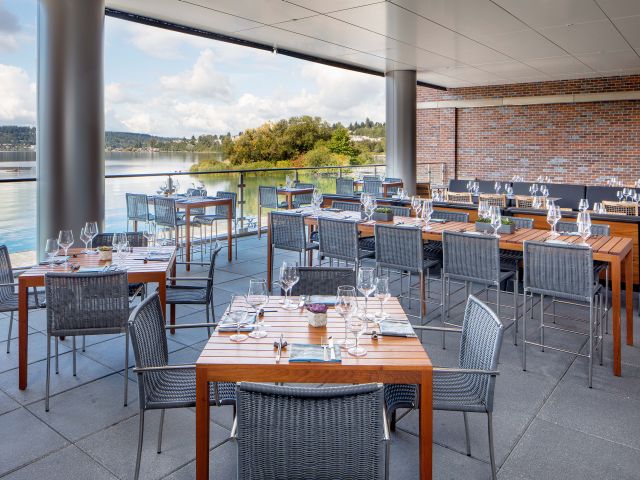 Capacity: Up to 17 event rooms; 60,000 sq. ft. of event space. Largest space, dinner for 1,000 guests.
Catering: In-house
Price Range: Four (4) Diamond service. Price varies by event.
Deposits: Deposit due with contract.
Types of Events: Large Galas or intimate celebrations: breathtaking lakeside views for all occasions.
ADA: Accessible
Parking: Valet and self-parking options on site.
Tables & Chairs: Standard tables and chairs provided.
Staff: In-house – authentic Hyatt hospitality
Bar Facilities: Full bar services provided by hotel.
Dance Floor: Available; fees may apply.
Linens, China, etc.: Standard linens, china and flat wear provided by hotel.
Decorations: Natural light and lakeside views are just the beginning.
Cleanup: In-house – authentic Hyatt hospitality.
AV & Equipment: In-house provider. Fees based on services required. 100% fiber-optic, 3 GB broadband.
Accommodations: 347 guestrooms; 31 suites, 216 kings and 100 queen/queens.
Authentic Hospitality Meets Natural Waterfront Beauty.
Stunning, AAA four (4) Diamond waterfront hotel now open! Natural light and one-of-kind lakeside views offer exceptional spaces to convene, connect and celebrate.